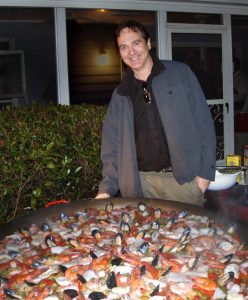 About the Chef
Juan Ten Boquera was born in Valencia, Spain. His parents Lola and Salvador are also Valencian going back several generations. Valencia is the region where paella, the signature dish of Spain and one of the most beloved dishes in the world, originated centuries ago. Juan comes from a long line of culinary craftsmen. Juan's mother, Lola, is an outstanding cook, who taught Juan at an early age how to prepare authentic paella and other specialty dishes. Lola knows several family secret recipes, passed on by word of mouth for generations.
Juan's grandfather, Salvador Ten Montoliu (1897-1974), chef and inventor, is credited to have registered in the 1950s the patent to the first gas furnace retrofitted to cook paellas (paellero de gas).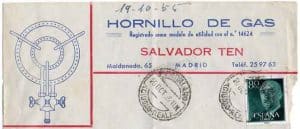 About Real Paella Catering
Family owned and operated, Real Paella Catering was founded in Tallahassee, Florida in 2006. We are committed to providing you with the highest standards in quality, service, and presentation.
Juan Ten entices the senses with cooking demonstrations and live flamenco music. The genial gastronome specializes in paella, a signature dish of Spain that brings families and friends together around the giant pan from which the delectable dish is served. Juan re-creates the experience during live demonstrations as guests gather around the cooking site filling their nostrils with the aromatic fragrances of roasted garlic, spices, and al dente saffron valencian rice. Ears remain attuned to the mellifluous melodies of master guitarist Silviu Ciulei, strumming the harmonious beats of flamenco music, while tongues stay entertained with the Spanish cheeses, olives, chorizo and a glass of sangria. When the main course arrives, anticipating eaters relish in the tender meats, seafood, or vegetables resting atop a bed of delicious rice.
Real Paella Catering's tempting tastes derive from fresh local ingredients and spices, rice, and oil imported from Spain. The master chef only uses all-natural, never processed products, and only of the very best quality.
Setting up a paella event
We can cook the paella on-site in front of your guests of parties for up to 1,000 people. It takes us about 2 1/2 hours from the time we start setting up until we are done cooking and ready to serve the paella. In order to set up the equipment and cook we need an outside flat area of about 12 feet by 12 feet. We always bring a tent in case it rains. When the food is ready, people bring us their plates and we serve them right from the pan, buffet style, or we can move the paella pan inside if you prefer. We always make enough paella so everyone can get seconds and eat as much as they want. We recommend you telling your guests to arrive earlier, while we are still cooking – part of the fun of a paella party is to watch the process of making authentic paella.
We will also provide traditional "tapas" (hors d' oeuvre or gourmet mini-dishes), sangria, dreamy homemade desserts, and live flamenco music to lively up your party with the sounds of Spain.