By Kati Schardl
ASSISTANT FEATURES EDITOR
The ways of making paella are as many and varied as the people who cook it.
Beyond that, one could say that arguments — along with the intangible elements of pasion y espiritu — are essential ingredients of an authentic paella.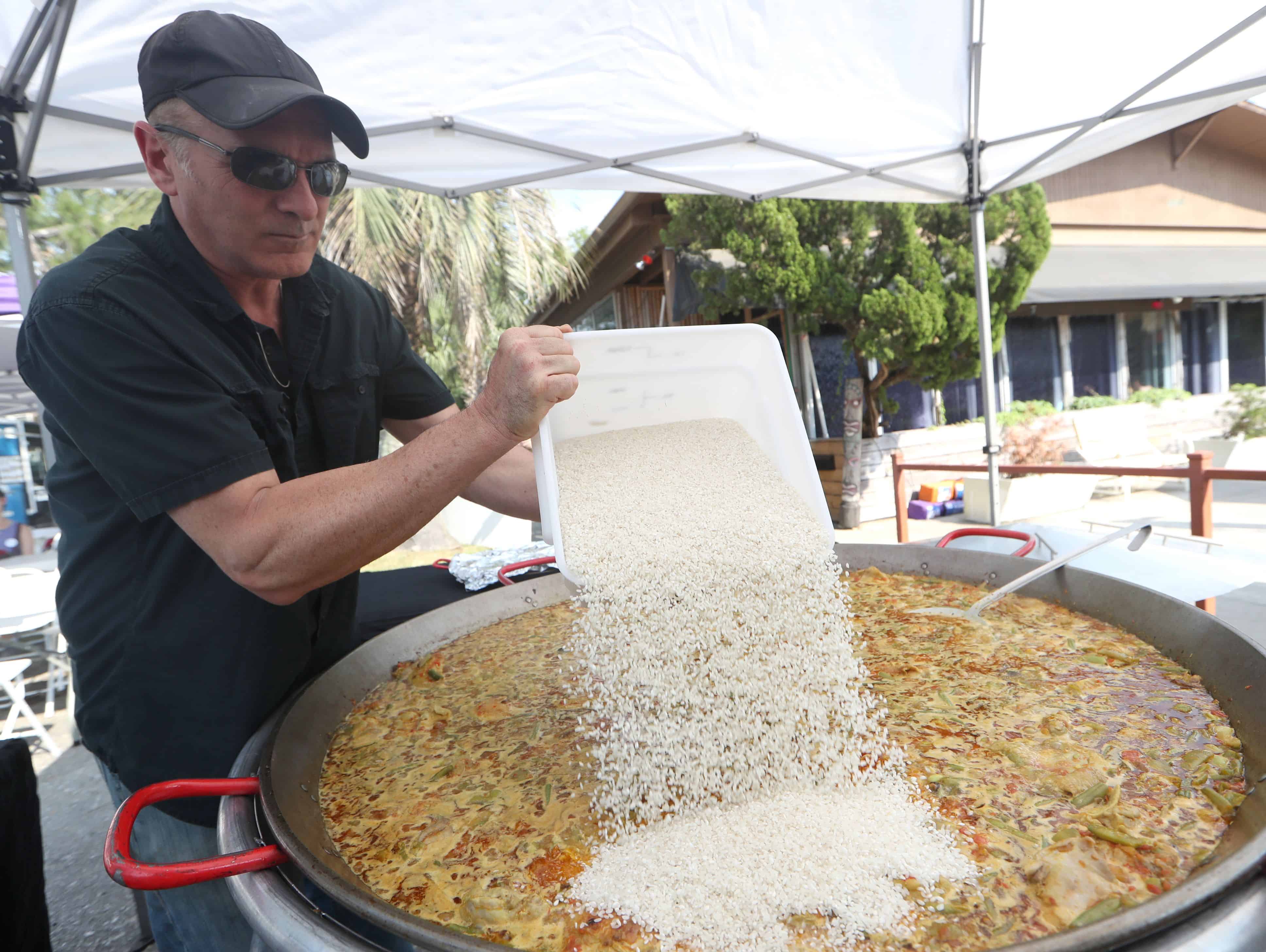 Aficionados dispute the type of rice used, whether or not to include chorizo (and if so, what kind is best — Spanish or Portuguese?), what should be included in the sofrito (or spice mixture), whether it's best cooked over an open fire (grapevine clippings? or orange wood?) and even the type of water added to the pan.
"I had a lady tell me recently that if you don't use (lime-rich) water from Valencia to make paella, it's not traditional," said Juan Ten of local catering company Real Paella. "I had to argue with her about that."
Ten knows paella — his parents are from Valencia, and he learned to cook paella in his mother's kitchen as a boy growing up in Madrid.
"I was always in the kitchen," Ten said. "I grew up with six sisters, and none of them like to cook. My brother doesn't really cook either. I learned how to make paella when I was a teenager."
Certainly, having a man manipulating the paella pan is in keeping with the dish's peasant origins and even today, paella is most often cooked by men.
"In Spain, there's a long tradition of getting together for lunch with the whole family," Ten said. "But the country workers couldn't come in from the fields to do that everyday. So, they cooked for themselves in the fields. The original paellas had rabbit and (land) snails, and whatever vegetables they could find to put in there."
The list of ingredients has expanded for modern paellas, Ten said. For his catering operation, he offers four different kinds of paella — Valenciana (the closest to the original, with chicken, pork or rabbit), Marisco (a seafood-studded paella), Mixta (a combination of meat and seafood) and Vegetal (an all-vegetable paella).
Ten, who's lived in Tallahassee for close to 20 years, has been cooking paella for friends for a long time. A couple of years ago, he decided to build a business around his cooking. Now he's booked nearly every weekend.
"We've had Juan cook for us for two open houses and a holiday party," said client Mary Rolling, owner of Athena's Salon. "Everyone always raves about his food. It's very authentic and he is so dependable. He brings everything — you don't have to do anything but enjoy the food."
Ten enlists the assistance of his 13-year-old daughter, Alicia, and helper Jose Vazquez when he cooks, but he likes to do most of the prep himself.
"That way, I get the right proportions," he said.
Ten has begun spreading the gospel of paella at the Wednesday growers markets at Lake Ella. On the first Wednesday of the month, he'll be there demonstrating how to cook paella and serving the results to all comers for free. Longtime paella fans know to ask for some of the socarrat, the crispy caramelized rice from the bottom of the pan.
Ten is equipped to cater parties of 25 to 200 people, thanks to a propane burner he designed and built himself. Real Paella party packages can include paella only or paella, tapas, salad, dessert and sangria. Ten will even arrange for music (traditional Spanish music as well as live rock) and tents, tables, chairs, dinnerware and more.
"The prices are so reasonable, considering Juan provides everything," Rolling said. "I would absolutely recommend him to anyone."
To learn more about Real Paella, visit the Web site at www.realpaella.com.
Source: Tallahassee Democrat